Bathrooms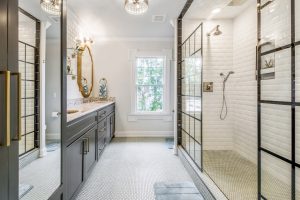 No matter if it's a half-bath, a kid's bathroom or a Master Suite. We understand for most Clients the bathroom is a space to find sanctuary and solace. Often referred to as the throne room it ought to be a well-functioning, well designed, clean space.
How we operate:
From the beginning of any project we start with an in-home consultation discussing what you like and dislike in the space. Learning your wants and needs. From there we can begin to craft a plan, working to find solutions that fit your desired outcome and budget. But that's just the beginning: from there we're there to provide insights as selections are made regarding countertops, cabinetry, flooring, appliances, layout.
Once the project begins, we assign a dedicated crew to your project, ensuring it remains on schedule and on budget. With Germantown Home Pros, you won't have to worry whether your remodeler will show up or not., we will, Guaranteed. For any project that requires it we always pull necessary permits and build to local code, never sacrificing on quality or craftsmanship.
Its our goal to bring your Bathroom dreams into reality. Want to learn more about specific projects? Get in touch today, we are proud to provide references.